Books
September 12, 2016
I'm a recovering prude. So yeah, I write the nasty stuff (sometimes). Years of repressed desires and all that breaking free and stuff. My books are full of strong women, snarky dialogue, alpha boys (who are secretly sweethearts), and lust to love, happily-ever-after storylines. Oh, and sometimes there are werewolves. And vampires. And an assortment of other sexy, supernatural things.
If my mom ever gets ahold of one of my dirty books, I'll probably set myself on fire and welcome death, Denethor-style. But in the meantime, I hope *you* have fun reading my books.
Smut is good for the soul, so read on, friends.
---

 "An X-rated version of Twilight meets the TV show Greek!"  This is a series of dirty, funny, standalone new adult romances, where the pretty boys of the Alpha Alpha Sigma fraternity are hiding a supernatural secret…
---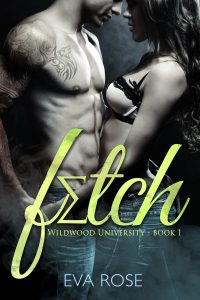 Audrey Jones has one purpose for joining the Beta Sigma sorority: Her resume. The sorority's national philanthropic cause is the study and prevention of the disease that took her beloved grandma. The same disease that she's vowed to spend her future career, in medical research, studying. And yeah, she realizes that basically nobody believes her when she says she joined a sorority for "philanthropy reasons". But whatever. Audrey survives rush week anyway (somehow), gets a bid, and she soon winds up in charge of the sorority's massive spring fundraising event. Which is great.
Except said event has flopped for the past five years running, and Audrey's going to need magic to revive it, basically.
Enter Colton Harris. Arrogant. Sexy. Mysterious. Not exactly magic, but not exactly human, either, as it turns out. So he might do. That is, if Audrey can convince him to get his rich parents and their connections to support her event. It's for a good cause, so it should be easy, she thinks. Until she quickly realizes that nothing is easy when it comes to Greek life— or supernatural— politics. And falling for (and having wild, crazy sexual escapades with) the one she's supposed to be negotiating with doesn't exactly make things easier.
But it does make them a lot more fun…
***This book contains graphic sex scenes and strong language, and it is recommended only for mature readers. It's also recommended for people who like sexy standalones with a lust-to-love storyline, a (light) paranormal twist, a bit of humor, and a happy, no cliff-hanger ending!***
Release Date: November 30th, 2016
You can also go here to to receive a free fifty page sampler.
Or, skip the sampler stuff and pre-order now for the special, limited time price of only 99 pennies!
---